About Us
Our Story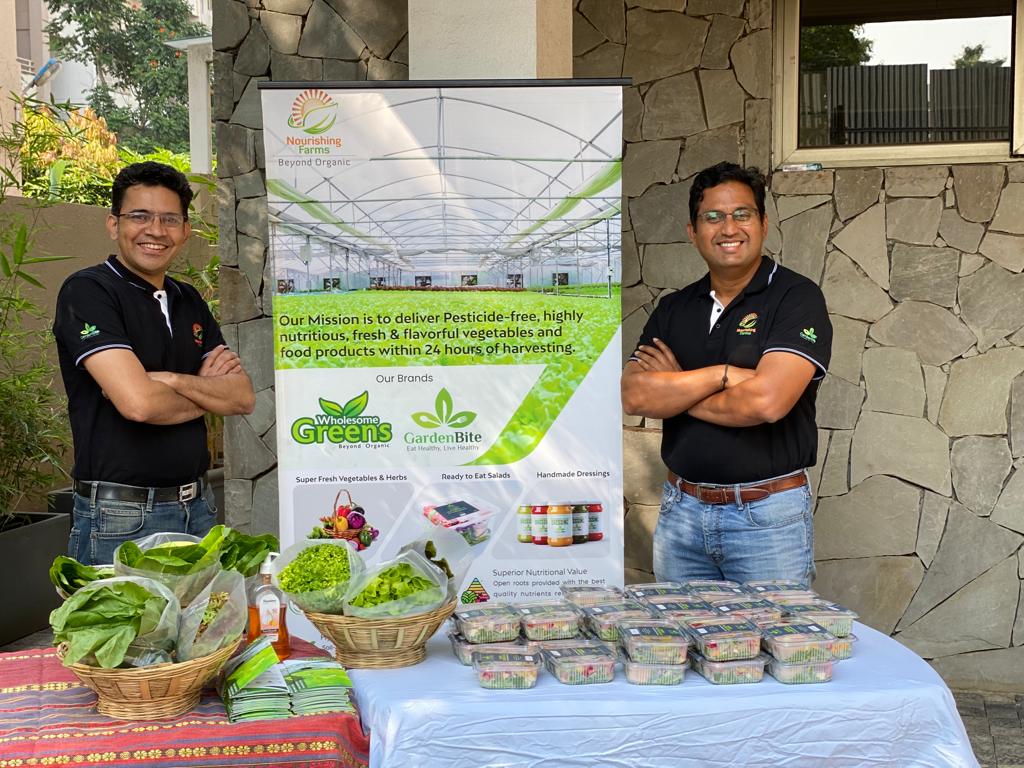 We - Sunil Bardeskar and Diwakar Bedekar - are two childhood friends. We both grew up in Kolhapur and come from Agricultural backgrounds. But interesting both our families didn't want us to have anything to do with Agriculture. Our families knew that an Agricultural life will be difficult, back-breaking, and will not provide any of the comforts of the 21st century. So both went about learning Engineering trades and moved away from Agriculture.  
Sunil & I have been together since our 1st standard and continue to study and grow together up to our first job as a Software trainee engineer at SRI, Pune. We then split our ways wherein, Sunil moved to Bangalore and I moved to the US in a few years.  
Though we had parted ways and were living on two different continents, we continued to stay in touch and would discuss problems that need to be solved. Towards late 2014/ 2015, we started to think more seriously and what we can do to bring some positive change.  
By now, both Sunil and I had grown into our respective fields and were managing large organizations in MNCs. Once we had made up our minds to come together and invest in an idea, we started to ideate on areas we can collaborate. Given that we had been working in Information Technology for 15 years, all our ideas were around technological innovation we can bring in different areas. We continued to push the envelope on different ideas and started thinking outside the box.  
I have always been passionate about cooking, gardening, and healthy eating. Sunil has been driven by giving back to society and solving problems that have a larger impact on society. We both felt it was time for us to step out of our comfort zones and give back to society. As we continue to trash out different ideas, we went back to your roots and our discussions continued to center on Agriculture and how our generation, and especially the one after ours had moved away from Agriculture.  
The more thought about it, the more we were convinced that we should do something in this field. For one, the human race is not going to give up on eating. We need to feed our bodies with food. We could do away with interacting with real people and focus more on the virtual world, and we could do away with physical activities and move into the virtual gaming world, but there is no way we can move what we eat to the virtual world. What this means is, Agriculture and the need to produce good quality food are here to stay.  
What we need to do is, make it more revenue friendly, bring in technology to increase the shelf life, develop new ways to market the product, bring more people back to the farm, and in short – make it more appealing to the younger generation.  
With that in mind, we are out to build a company that focuses on new Age agriculture and is striving to bring transformation in the Healthy food business through State-of-the-Art Modern Technology, develop new marketplaces and practices to help the distressed agriculture environment, gain the past glory and bring back the younger generation to new and innovative ways of agriculture. 
To make our dream into reality, I decided to step away from my day job and take this on full-time. Whereas Sunil decided to continue with his IT job and become an investor in Nourishing Farms. 
Our Vision -  
To bring best-in-class technology & farming practices to make high-quality fresh vegetables and food products available to everyone and help improve the livelihood of our Farmers. 
Our Mission -  
To serve pesticide-free, highly nutritious, fresh, and flavorful vegetables & ready to eat food products. 
To provide marginalized-small farmers with an integrated farming model to double their income. 
To Empower women by increasing their participation in high-order jobs and make them self-sufficient 
Our values -  
Innovation: We will drive innovation to bring true transformation in agriculture and related fields. 
Responsible: We will adhere to sustainable methods of cultivating high-quality vegetables while keeping Consumers, Farmers, and Nature at the forefront. 
Quality and safety: We will follow a world-class Food Safety and Quality Assurance program to deliver safe, hygienic, and delicious vegetables. 
Kaizen: We will strive to bring continuous improvement in everything we do. 
Problem and our solution 
Today agriculture in India is impacted by,
Age-old agricultural practices 
Overuse of pesticides & fertilizers 
Environmental factors like droughts, floods, and pest infestations. 
This results in hardship for farmers, and communities, and turn the consumers as they end up with sub-optimal produce. 
Nourishing Farms plans to tackle these issues right at the roots by using the latest technologies and strategies fit for the Indian premise. 
Why Hydroponics? 
Hydroponics is transforming the food chain by bringing Healthy, Fresh, and Flavorful food to the dinner table at a rapid pace. 
Quality Control : 

Greenhouses simulating climatic conditions for producing Top Quality vegetables 
No Pesticide. No Herbicides – Residue free healthy vegetables 
Extremely Hygienic Environment - No Contamination from farm to table. 
Precise energy and water consumption for lesser usage of resources 

Fresh to Table : 

Quick Delivery Cycles - Farm to the table within 24 hours 
State-of-the-art technology – trace your food to the source 
Fresh Produce year-round with less dependency on seasons 
Less Labor, Higher Yields & Rapid Harvesting cycles 

Health Value & Taste : 

Vegetables with Highest Nutritional value and Superior taste 
Use of best quality imported seeds 
The special nutrient formula for every plant type 
Hyper care from seed to harvest 
Why Us? 
Hungry & Passionate to bring transformation in Agriculture and related fields. However, our highest motivation is to uplift and make this profitable to everyone in the value chain 
Assured Quality: We care about our Produce. Nourishing Farms uses State-of-the-Art AI-powered technology in Hydroponic farming based on European standards to grow pesticide-free vegetables year-round 
For People & Society : 

Women Empowerment: Local employment opportunity for social welfare 
Uplift Farmers: With technology, make farmers part of global transformation and contribute to the Indian Agriculture Sector on a greater scale 

For Mother Nature : 

Lesser Resources: Higher Produce (90% less water, 10x Produce) 
No Pesticide: This in turn saves from a long-term environmental damage 
Technologies 
Introduction & Adoption of Innovative & world class Agro-tech solutions